SESSION FILES
Put yourself front and center stage at a professional recording session.
Session Files gives you personal access to the raw multitrack from a variety of recording sessions produced by Alan Parsons. In addition to the raw multitrack comes a folder of photos, plus fly-on-the-wall video so you can see who the players are, what they did, and how they were recorded. We also provide a track sheet with session notes written by Alan himself.
These are not in in-the-box recordings made on someone's laptop. These are recordings made in some of the world's greatest studios including Abbey Road, The Village in Los Angeles and Ocean Way in Nashville.
These are also not your mother's (or father's, or brother's) recordings. These are sessions featuring either internationally renowned session players including Vinnie Colaiuta, Nathan East, Nick Beggs, Tim Pierce, Michael Thompson, Craig Martini, Rami Jaffee, Pat Caddick... and/or professional recording artists, including Alan Parsons himself!
Early Reviews!
"I think ASSR's Session Files are going to be big hit with recording engineering schools, home recording enthusiasts--any one who wants an inside look while having a great way to practice mixing using awesome sounding music played live by the best players." Barry Rudolf (Music Connection).
"I believe that I will learn more from these sessions than any other training resources I have tried before. This is simply a brilliant Idea you guys came up with. It's only been a day and I have already improved. That just blows my mind." Alrod (customer)
"An AMAZING body of work. B.T. (educator)
"One of the 1st things I did was slap a reverb (Relab LX480), on the vocals and was floored by how good it sounded! I have recorded great singers, but never had a reverb behave this way. Very clear, and very dimensional. This tells me that I need to work on the room as well as the mic placement within the room." Alrod (customer)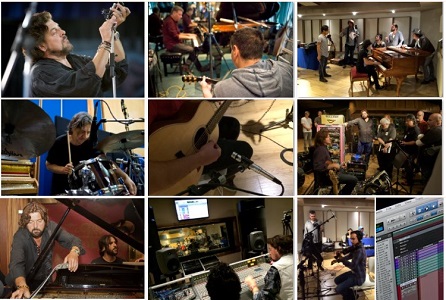 What's included with each Session File
A folder containing the complete set of consolidated 88.2kHz wave files
A .ptx file for ProTools® users
The track sheet written by Alan Parsons
A folder of session photos
A link to video footage from the session
Once your payment has been authorized you'll receive a link to a download. The download is a .zip file. In the .zip file will be a folder containing all of the individual wave files for that session. Load these into your DAW. The folder also contains a .ptx file. If you run ProTools™ you can use this to open a new session in ProTools™ that automatically calls up the tracks, color-coded, in the right order, tempo set etc.
The track sheet is important as this lets you see instrument or source names, whether the track was recorded by DI or using a mic and, if so, which mic; whether some extreme EQ had been used, or limiting, or an unusual mic position etc. The download also contains a separate folder of the session day photos.
You will also receive an additional link to video recorded on the day that'll give you good insight into how the recording process went, the players, the relative positions, iso booths etc. This is purely 'fly-on-the-wall' footage to provide context and should not be viewed as 'training video.'
Read the full review by Barry Rudolph
What you can do with Session Files
Load them into your own DAW, make any alterations you want and save the session for your own continued use.
Make changes! Add EQ, processing, FX...
Add your own parts. Think a different bass part would work better? Want to add a breakbeat? Go for it!
Remix.
Do another remix!
Study and learn: individual parts, sounds, levels, arrangement
What you can't do (Terms and Conditions)
You may not claim one of these songs or the recording as your own. This is copyright material.
You may not publish - remixed or other - in a public or commercial setting (including online) without prior express permission from ASSR.
If you create a loop and would like to use it in any public or commercial setting (including online) you must obtain sample clearance from ASSR. Please contact:info@artandscienceofsound.com.
Session Files Vol 1
Ten (10) individual Sessions are currently available that were recorded at some of the world's most prestigious recording studios including Abbey Road, The Village, and Ocean Way and that feature a wide range of genres including rock, blues, country and Latin. Instrumentation includes drums, bass, multiple guitars, multiple keyboards, brass, and both male and female vocals.
Purchase options
Session Files can be purchased individually (see titles below) at $99.99 per Session.
You may also purchase (by download) the Complete Collection / Vol 1 (all 10 sessions) for $899.
You may also purchase the Complete Collection / Vol 1 pre-loaded onto a custom 32GB USB drive for $950 with free shipping.
Educational Pricing is available to accredited schools and colleges. Please contact info@artandscienceofsound.com.